Jeep Camping Gear Options for the Offroad Enthusiast!
Growing up around and being a current owner of a Jeep (46′ Willys), I share a fondness, as many others do, with this iconic offroad capable vehicle. As the oldest off-road vehicle and SUV brand, Jeeps have maintained the same basic look since their introduction in 1941 during WW2 and there aren't too many people who name one at a glance.
The typical Jeep owner obviously loves the outdoors and probably loves to camp too. A Jeep can get me where I want to go, but can it also accomodate my camping needs as well?
Well after a bit of online research, I found some cool camping gear for Jeeps that I previously had no idea existed. Here's a few cool camping gear accessories available for Jeeps.

---
Jeep® ActionCamper© by Thaler Design
Thaler Design in Austria touts the ActionCamper as an "expedition ready slide-on camper", with a shell made of fiberglass and a pop-up top, the interior of this camper looks well thought out and has amenities such as a sink, stove and porta-potty just to name a few. The ActionCamper appears to have lots of storage and enough room for two to sleep. Thaler Design has a multitude of photos on their website of the ActionCamper in "action". www.actioncamper.com
---
Jeep® Off-Road Camper Trailer
This camper trailer sports lightweight, all-aluminum construction and is designed to look like the back half of a Jeep. It comes in two different models: The Jeep® Trail Edition for casual campers with 12 inches of ground clearance, and the Jeep® Extreme Trail Edition for maximum offroad capabilities with 15 inches of ground clearance, a full underbody skidplate, and 35-inch tires. Click here to learn more
---
Tentrax Off-Road A/T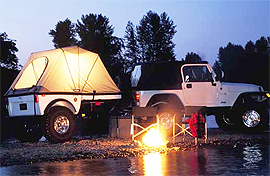 These little tent trailers appear to be able to handle off-road no problem as Tentrax says they can easily be towed to remote off-road camp sites. Designed to be lightweight and made with fiberglass for superior stregnth and versatility, the Off-Road A/T can withstand the rigors of rugged terrain conditions. Lots of options available including up to 19 inches of ground clearance, a 6 inch lift kit to fit 38″ tires, a special hitch to increase articulation, skid plate and multiple rack systems available. There are also some good pictures of the Off-Road A/T in action on the Tentrax website.
---
Ursa Minor Vehicles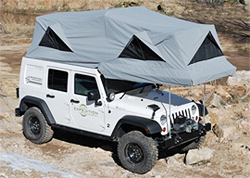 Ursa Minor Vehicles in Chula Vista, CA makes two different Jeep camper models: the J180 Hard Top Fold-Over camper (pictured) and the J30 Pop-Up Hard Top camper. Both sport 6'6″ standing room when open and are made with lightweight composite materials which they say minimize impact on handling while decreasing noise. Both also have low-current interior LED lighting. When closed, both models have a low, streamlined profile to minimize wind noise and maintain gas mileage. Check out their website to learn more.
---
ARB Touring Roof Top Tent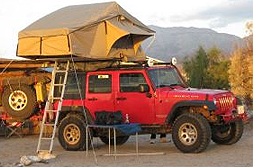 If your looking for an option that doesn't require a bunch of modification to your Jeep, consider the ARN Roof Top Tent. the tent mounts to a roof rack and unfold easily in minutes. Folds up with all your bedding in it to free up storage elsewhere. Optional annex provides added space and protection from the elements. Other options include a retractable awning and purpose designed roof rack cage. The tent is also mountable to the rear or side of a vehicle or trailer. Comes with a sturdy, retractable aluminum latter and lots of other goodies. www.quadratec.com
---
EarthRoamer XV-JP
Before getting your hopes up with this sleek looking Jeep camper with fold-out tent top, I have to inform you that EarthRoamer discontinued this model in 2011 so they could focus their development resources on hard-shell models for other 4-wheel drive trucks, as stated on their website. However, they still feature the camper on their website and I'm sure if the demand was there, they'd start making them again. It's just so cool looking that I had to put it on the list. www.earthroamer.com